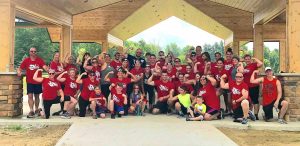 $1,500 RAISED FOR WEEKEND FOOD BACKPACK PROGRAMS
The Sanilac County Community Foundation received $1,500 from Taylor Hutchinson
Fitness for the Backpack Fund during Sandusky's Thumb Festival. On Saturday, June 29th, Taylor
Hutchinson Fitness held its Thumb Fitness Challenge. Forty-five participants endured the
challenge and raised over $1,500 for the Backpack Fund.
"I created the event to help promote my fitness center so more people in our
community can improve their health and wellness," said Taylor Hutchinson, owner of Taylor
Hutchinson Fitness. Those that had come to support the cause paid a participation fee, all of
which was donated to the Backpack Fund at the Sanilac County Community Foundation (SCCF).
"The Backpack Fund is a way that we can support all of the schools in the county while
utilizing the philanthropic resources that the Community Foundation has access to" said
Melissa Anderson, the Executive Director of the Sanilac County Community Foundation. "Using
endowed philanthropy, we can ensure that the infrastructure for defeating child hunger is
there forever."
When asked why he donated to the Backpack Fund, Hutchinson responded, "I chose the
health and fitness industry because I wanted to teach people the importance of health and
wellness as well as help others reach their goals. I care about individuals' health and quality of
life, and it all starts as a child. That is why I chose the backpack fund to donate our proceeds to
so we can help these kids get the nutrition they need to be well nourished, healthy, and allow
them to enjoy their childhood."
The Backpack Fund at SCCF supports the various Backpack Programs. Each program has
common goal. Rochelle Rich, a longtime volunteer to the Backpack Program, says "The program
is meant to provide nutritious, non-perishable, and easy to prepare food to children to ensure
they get enough food on weekends to avoid hunger when they can't depend on school meals."
"Children live in households in which there is a precarious balancing act between
essential needs such as housing, health bills, and a well-stocked pantry. This hunger often goes
on quietly and unnoticed by others in the community" said Rochelle. Thankfully, Backpack
Programs are here to help.
"Every backpack food program is unique to the community and school it services. By
providing kids with weekend food support they need when they're away from school, they
return Monday morning healthy and ready to learn," concluded Rich. The program is very
efficient as well. "Actual weekly cost of this program, to provide six meals to a child during the
weekend, is less than the price of a single burger, fries, and drink from the dollar menu of your
local fast food place one day of the week."
"Childhood hunger is a complex problem; therefore, we need a long-term solution that
can be provided through endowed philanthropy. The Backpack Fund has done a great job of
supporting the Backpack Programs at each school, but there is still a long way to go. The Thumb
Fitness Fundraiser from Taylor Hutchinson Fitness is another step towards the end of child
hunger in Sanilac County" Melissa Anderson.
The Backpack Fund is administered through the Sanilac County Community
Foundation.
For more information on how you can support the Weekend Food Backpack
programs through the Sanilac County Community Foundation, contact Melissa Anderson,
Executive Director, at the Foundation office at 810-648-3634.