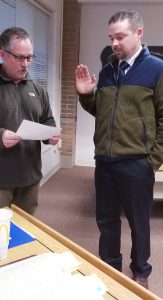 Sandusky School Board President Mark Davidson reads the Oath of Office to Dan Gerstenberger
(SANDUSKY) – The Sandusky school board wasted little time filling their vacancy, following the resignation of Michael Wilson. Wilson has moved out of the area and gave up his spot on the board where he served for the past five years.
The board held a special meeting Thursday evening, interviewing six candidates who had expressed interest in the opening. Those interviewed included Adam Filkins, Porsche Haynes, Jim Franzel, Laura Franzel, Lori Franzel and Dan Gerstenberger. Following a question and answer session with the candidates, the board tallied their votes and selected Gerstenberger to fill the vacancy until the November 2020 election.
The 2004 graduate of Sandusky high school also serves as a trustee on the Custer Township Board and works as Manager of Gersetenberger Farms.  He has two children in the Sandusky district and said he wants to be a part of a board that provides the best education possible for students and staff.
A common theme throughout the evening amongst candidates was what they felt was a need for clear communication between the board and Superintendent and a willingness to listen to new ideas and being open to working collaboratively for the good of the district. All six agreed it was important
When asked about millages and sinking fund issues, Gerstenberger said if he was shown there was a realistic need in the district for either, he could support it and do what he could to help educate the public on the need.  He told the board he is not a fan of social media and prefers face-to-face meetings, e-mails or phone calls when addressing issues.
Superintendent Paul Flynn told the audience the successful candidate would fill the open seat on the board until December 31, 2020. A school election will be held in November next year, when anyone could run for the six-year position.
Board President Mark Davidson thanked all six candidates for their interest in the opening and encouraged them all to stay involved in the district and file for board positions in upcoming elections.
At the end of the meeting, after the votes had been tallied and Gerstenberger declared the winner of the position, Davidson read the Oath of Office to the new board member.