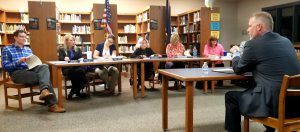 Douglas Muxlow speaks to the C-PS during first round interviews
(SANILAC COUNTY) – The Carsonville-Port Sanilac school board has been hard at work for the past 85 days, trying to find the next leader of their school district. Current Superintendent James Stewart in stepping down at the end of this school year.
"It's been a long road, but I believe you are nearing the end and could well select your next Superintendent this evening," Michigan Association of School Boards representative Rich Ramsey told the board prior to the start of interviews Thursday evening. "You have worked had, done your home work and compiled what I believe to be three excellent candidates with their own strengths and weaknesses. I am proud of all of you for how you have gone about the business of the district and made it to this point."
Along with selecting their next new Superintendent, board members also had to hash out in they wanted a full-time Superintendent or one with shared duties as a Principal as well.
C-PS employee Scott Bular was first up on the hot seat and spoke of his more than 20 years with the district and of his qualities. Bular said he felt it was important to identify goals and priorities, observe staff in the classroom setting and to keep on open line of communication. He said it's important to have integrity and be truthful and felt he had the needed skills to fill the position.
Ryan Eugster, a Deckerville schools employee was next up to interview with the board and several board members said they were impressed with his second round session. Eugster said he is a big fan of having direction, a vision for where the district wants to go and everyone working together to meet that goal.  He feels the quality of education is paramount and considers himself to be very approachable.
Muxlow was the last to interview and like the first round, had informational handouts for the board to review on how he would work with staff to address issues. The former Brown City Superintendent said while 80% of the budget goes for salaries and benefits, he felt it was "important to make the remaining dollars go as far as possible and be the most effective we can with programs at C-PS."
Muxlow also has experience as a building principal while at Brown City and has extensive experience working with budgets, negotiations and communicating with the public. He said it is important to keep parents informed of their students progress and happenings within the district.
Following the interviews, the board first decided they wanted to go with a split duties, one person for Superintendent and another for Principal. Some members expressed concern about one person filling both roles, saying it was important to them to have a chain of command. Board members said they appreciated Muxlow's experience and that he seemed approachable and friendly while also being able to handle district business.
While six of the seven board members felt part-time was the way to go, Crystal Caskey disagreed and favored hiring Bular. After further discussion on each of the candidates, Caskey maintained her opposition, despite encouragement  from Ramsey to have a unanimous vote to show support of the new hire, voting no on a roll call vote on hiring Muxlow.
Board vice-president Renzie Milarch made a motion to hire Muxlow as a part-time Superintendent, with Tim Klaty seconding the motion. The motion passed 6-1 with Caskey objecting.
Following the vote, Board President said the Personnel Committee would be meeting, and invited their new Superintendent to sit in on the meetings, to discuss the next step for hiring a Principal. Milarch said the board has "quite a list of candidates" wanting to be considered for the Principal's position.
Muxlow, who was informed of the board's decision via speakerphone during the meeting, will now sit down with board members and hammer out details of a new contract and was asked to attend the next board meeting on May 13th.
Klaty, knowing there was a board member and a few audience members opposed to the hiring said, "whether you like the hire or not, if you are disappointed, the board would like you to be able to get behind Mr. Muxlow, show him the support we have here in the C-PS family and give him a chance to lead us. It's the right thing to do and it's only fair to him."