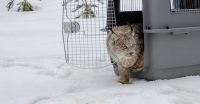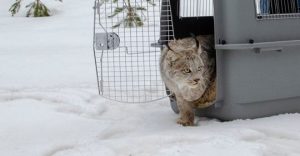 A rare lynx captured last month in the Thumb has been released in the Upper Peninsula.
The Lynx was captured on a farm in the area of Ruth and Harbor Beach last month after is was reportedly feeding on domesticated geese, and was caught by Applegate trapper Jordan Cook.
From there, it was taken to Howell Nature Center in Livingston County, and later transported to the Detroit Zoological Society. At the time, there was a possibility that the lynx would remain in a zoo or nature center.
The lynx was found to be a female less than a year old, measuring over four feet long and weighed 18 pounds. It was determined at the Zoo that the animal had sufficiently recovered well enough to be released.
The lynx was treated for parasites, dehydration and a foot wound before being set free in her new home in Michigan's U.P., according to the DNR.