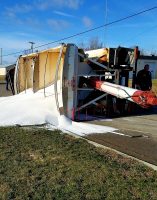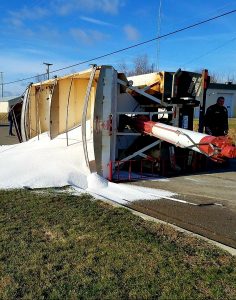 A load of urea was spilled Monday morning in Sandusky – courtesy photo
(SANDUSKY) – Sandusky fire and police departments responded to a rollover accident on the city's east side early Monday morning.
According to Fire Chief Todd Hillman, a fertilizer truck carrying a full load of urea, rolled on to it's left side while attempting to navigate a turn south from East Sanilac Ave.
Hillman said the incident happened around 9 a.m. Firemen cleaned up the spilled fertilizer while Sandusky police diverted traffic around the scene.
Michigan State Police Department of Transportation Troopers were called to the scene to investigate the scene.
According to authorities, the driver of the truck, which is owned by Crop Production Services, sustained minor injuries.