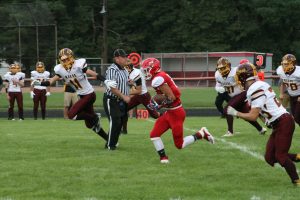 The Marlette Regional Hospital Foundation had participation from over 70 Thumb Area coaches representing ten school systems in Sanilac, Tuscola, and Lapeer Counties at the Coaches Sports Summit event recently held at Brown City High School.
This educational event was free to attend and was designed to assist area coaches, trainers, and athletic directors in training healthy athletes and preventing sports-related injuries.
Attendees listened to keynote speaker Matt Walters, Marrlette Regional Hospital's Emergency Services Manager, who shared information about injuries on the field and what to expect when EMS is on-site. Sergeant Steve McKenney and Deputy Phil Deacons of the Sanilac County Drug Task Force also shared information about street drugs, vaping, and trends in marijuana as it relates to area teens.
Break-out sessions were provided by Dr. Michael Smith of MRH's Therapy Services who demonstrated stretching techniques and best practices, as well as Hannah Boyle who shared information about student athlete nutrition.
The hospital foundation expresses its appreciation to those who helped sponsor the event and everyone who participated.