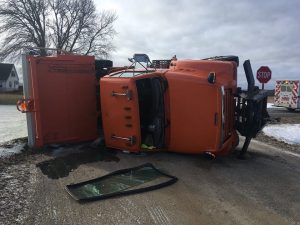 (TUSCOLA COUNTY) – A Tuscola County Road Commission plow truck driver got more than he bargained for Tuesday. According to the Tuscola County Sheriff Department the plow truck was involved in a two-vehicle collision that knocked the plow truck over on it's side . Deputies said the plow truck driver was working to clear county roads when he was struck by a semi-truck.
With the recent ice and snow, police are reminding motorists to use extreme caution when driving in the area of plow trucks.
No injuries were reported.