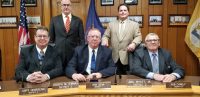 The Sanilac County Board of Commissioners held their re-organizational meeting Tuesday afternoon, the first meeting of the year and also the first meeting for two newcomers to the board. Commissioners selected District 1 Commissioner Dan Dean to continue as Board Chairman and voted District 4 Commissioner Bob Conley as Vice-Chairman.
District 2 Commissioner Gary Heberling will serve as Finance Chairman. The meeting was the first for newly elected District 3 Commissioner Joe O'Mara and District 5 Commissioner Joel Wyatt, Jr.
During the regular business portion of the meeting. Commissioner selected Cheryl Cribbins to serve a two-year term on the Central Dispatch Advisory Board, law enforcement officer and Sanilac County resident John Maxey will serve a two-term on the Drug task Force Board and John Knoerr will serve term on the Planning Commission that expires in September of 2020.
At the end of the meeting, the board went in to Executive Session to discuss a matter involving the Courts. Chairman Dean said Judge Donald Teeple was wanting to give staff in the court system pay raises and it was believed he did not need Commissioners approval to do so.
Dean said the County's attorney had a written opinion on the matter which was discussed in the closed session. It was agreed in open session to try and have a discussion between the two sides and hopefully be able to come to an agreement.