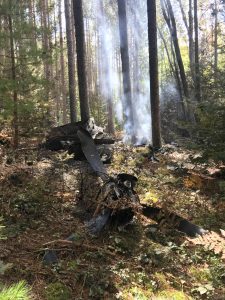 All that's left of a plane crash is the smoking ruins
(IOSCO COUNTY) – A 10-passenger airplane has crashed in Northern Michigan, with only the pilot on board.
According to Michigan State Police, the plane was last observed on radar southwest of the airport at a rapid descent early Tuesday morning.
Troopers from the West Branch State Police Post along with members of the Oscoda Twp. Police department/fire department and the Iosco County Sheriff's Office searched the area and located the wreckage around 10:30 a.m.
The aircraft was a dual propeller King Air, 10 passenger plane, owned by Kalitta Air of Oscoda.
The pilot was a 33 year old male from Orlando, FL and is believed to be the only occupant at the time of the crash.
The aircraft left the Ypsilanti Willow Run airport this morning and went missing before it reached it's destination.
FAA is currently in route to the crash scene for further investigation into the crash.