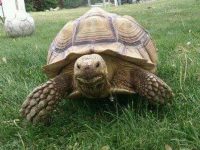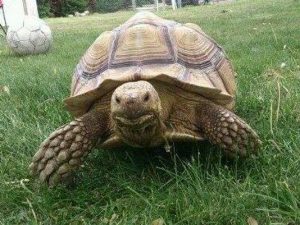 (courtesy photo)
A runaway tortoise has been returned to his home. Poky, who was also caught after running away from his previous owner last August in Port Huron, was on the crawl again yesterday.
Deputies from the St. Clair County Sheriff's Office were called to the area of Lapeer Road and English Road in Clyde Township following a report of a tortoise in the roadway.
Poky was located in the area around 4:00 p.m. Deputies were able to corral Poky with no injuries to the deputies or Poky.
The tortoise was held by a Good Samaritan, until the owner was found.
His owner said he left Poky outside in an enclosure to enjoy the nice weather.He was later found a short distance from his home.