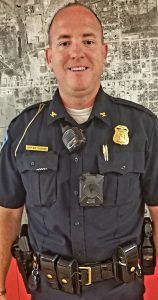 Chief Brett Lester
Sandusky Police Chief Brett Lester has been selected to participate in the 275th session of the FBI National Academy.
Chief Lester will begin 10 weeks of training in Quantico, Virginia in January and receive specialized training on topics including law enforcement communication, administration of police departments and forensic science.
Chief Lester is just the second law enforcement officer from Sandusky ever to attend the Academy and only the fifth from Sanilac County. Six candidates from Michigan are part of more than 200 officers selected for the elite training.
In other council news, City Manager Dave Faber reported the summer rec program was a huge success, with over 150 children taking part in the activities. Faber said the program costs around $20,000 a year with some of the costs recovered by a participation fee and sponsorship from local businesses.
Faber also updated council on the non-motorized pathway project, saying they are waiting on MDOTs final approval.
Bids have been received for the $750,000 sidewalk that will run from Maple Valley Road on the south side west to Walmart – and from Maple Valley to the city limits on the north side, near Real Video.
Sandusky council members also approved a pay increase for the City Clerk position, based on recommendations from t he personnel committee.
The Clerk's pay was increased from the current $51,400 to $53,500 following state guidelines.
The raise is in line with the 6% raise council recently gave their DPW Supervisor.