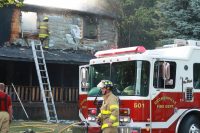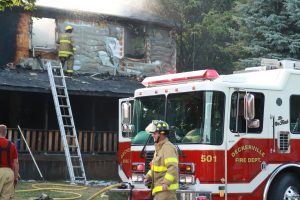 (DECKERVILLE) – Area fire departments responded to a house fire Monday evening, leaving a Deckerville family homeless. Firemen from Deckerville, Sandusky and Delaware Township responded to the blaze around 6:30 p.m. and remained on scene for over four hours.
Deckerville Fire Chief said the two-story home on Main Street, owned by John and Lyshel Sargeant, was fully engulfed when firemen arrived, with flames coming from all windows and the roof.
No one was home at the time of the fire and Hoff said the home and it's contents are a total loss. Nearby homes on both sides of the scene were not damaged in the blaze, according to Hoff.
The American Red Cross was called to assist the family.
Chief Hoff said he was thankful local businesses and residents brought water and food to the scene for more than 40 firemen.