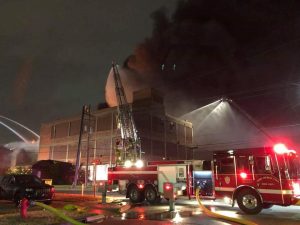 (courtesy photo)
(PORT HURON) – A four-alarm fire destroyed The old Chicory Warehouse in Port Huron late Friday night. Firefighters were called to the building on 12th Ave. around 10 p.m. and were on scene for over nine hours extinguishing the blaze and standing by during demolition.
Heavy smoke and flames through the roof were found when firefighters arrived on the scene.
Fire officials said the building is a total loss. Firefighters from the cities of Port Huron and Marysville, along with Port Huron and Fort Gratiot townships, battled the flames.
No injuries were reported and the cause remains under investigation.