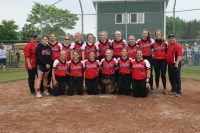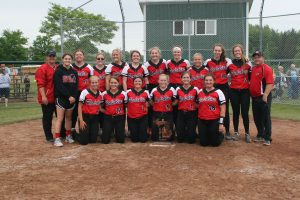 An exciting post season run continues as of early this week for the Sandusky Redskins softball squad. Coach Danny Franzel, in his eighth year as head coach of the program, guided his team to two more thrilling wins in Brown City Saturday as the Lady Redskins clinched their first Regional championship since 2013.
Sandusky beat Madison Heights Bishop Foley in a semi-final game 8-4 and then used their bats to turn back New Haven 12-9 in the title game. Sandusky traveled to Saginaw Valley State University Tuesday afternoon for a Division 3 Quarterfinal contest against Millington.
"This was quite a day for Sandusky softball," said an elated Coach Franzel after the game. "These girls have worked so hard, above and beyond, to make this happen. They've had to balance practice and games with graduation, final exams, family events and a lot of other stuff. And they just went out and took care of business. I couldn't be prouder of them."
In the opener with Bishop Foley, Sandusky put on the hitting caps, pounding out 15 hits to support the pitching of Haley Nelson. Despite leaving the base loaded in the first inning, Sandusky managed to push across one run when senior Paige Levitt doubled and scored on a RBI single by Nelson. A six-run third inning sparked the Lady Redskins to a lead they never gave up.
Kailyn Tomichek belted a three-run double in the third to highlight the rally and Levitt smacked a two-run double to give her team some breathing room. Madison Winiarski chipped in with a RBI double in the sixth inning, driving in Taylor Calkins. Nelson went the distance, scattering four hits and striking out 10 batters.
In the title game, Sandusky didn't waste anytime getting on the scoreboard, plating four runs in the first inning. Leading 1-0, Calkins belted a two-out home run over the left-center field fence for a solo home run, her fourth of the post season and eighth of the year. Two batters later, Winiarski stepped up to the plate and launched a home run of her own to make it a 4-0 game.
After New Haven responded with three runs of their own, Sandusky scored two more times in the third when after Nelson reached base, Calkins ripped her second home run of the game and ninth of the season, setting a new Sandusky record for home runs in a season.
Leading 7-5, the Lady Redskins added two more runs in their half of the sixth on a two-run single by Winarski and finished off the Rockets with three runs in the top of the seventh. Nelson worked out of a jam in the bottom of the seventh inning and catcher Cassidy Albrecht sent her team to the quarterfinals with a heads-up play, throwing out a runner trying to advance to third base and setting off a wild celebration on the field.
"I am just so proud of all of them," said Coach Franzel. "Top to bottom, we have been hitting the ball much better late in the season and the team has really started to gel in the last few weeks. It's a lot of fun and we want to go to Saginaw and give Millington a good game and we'll see what happens."Nelson picked up the win in the title game, allowing nine hits and striking out eight New Haven batters.