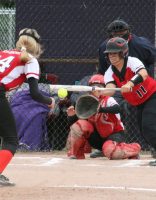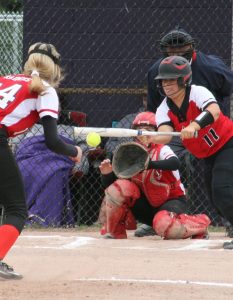 (CARO) – No lead is safe, not even in girls district softball.
Saturday in Caro, the Marlette Red Raiders seemed to be well in control and on their way to the championship game, leading 12-3 heading into the fifth inning.
But, the Sandusky Lady Redskins weren't quite ready to pack up and go home. Instead they mounted the rally of the year, scoring 12 runs in the final three innings and stunned Marlette with a 15-13.
Sandusky went on to knock off Caro in the finals 4-2 to claim a Division 3 district title. They now advance to Regional play at Brown City Saturday where they will take on Madison Heights Bishop Foley.
Sandusky Coach Danny Franzel was just as stunned as everyone else after the game. "Wow!! What a feeling it was… we did it, we work as a team, we hit the ball hard, and Haley Nelson shut them down."
Franzel added, " When Danielle (Franzel) hit that home run in the top of the 7th inning, I was so emotional and excited, I had to get myself and the team back to business, the game wasn't over, and Marlette had been hitting the whole game."
Marlette took control in the first inning and dominated the action for the first four innings, taking advantage of Sandusky miscues and solid hitting.
Along with their potent hitting attack, the Lady Red Raiders played solid defense to build the big lead.
Taylor Calkins belted a three-run home run to highlight a four-run fifth for Sandusky. After pitcher Haley Nelson set Marlette down 1-2-3, Sandusky went back to work in the top of the 6th inning. With two outs, Nelson singled up the middle, and Calkins crushed here second homer of the game to make it a 12-9 game.
Sandusky had one last chance, and took advantage of it in a big way. With two runners on base, Kailyn Tomichek drove two runs with a long single off the fence. Callie Jacobson followed up with a RBI double up the right centerfield gap to score Tomichek. The rally brought up Sandusky's top of the order with no outs.
Lead-off hitter Paige Levitt hit a ground rule double into the left field corner, to put runners at second and third and with still no outs junior Danielle Franzel launched a shot over the centerfield fence for three run homer and Sandusky's first lead of the game.
Bottom of the seven inning, Marlette's Hallee Reed lead off with a home run, but Sandusky's defense pulled off a bang-bang double play to win the game and set off a wild celebration.
In the championship game, Calkins once again came up big, crushing a first-inning three run homer to stake the Lady 'Skins to the early lead. After Jacobson scored Sandusky's fourth run, Nelson went to work and shut down a talented Caro team to claim the championship.
"It was a day to remember for us, for sure," Coach Franzel said after the game. "We were having some flashbacks from a year ago, when we got down early and couldn't come back. This time, we kept fighting and pulled out the win against Marlette. What a game!"
Calkins finished the day with three home runs for Sandusky and Nelson pitched all 14 innings to get both wins. Sandusky now plays Saturday at Brown City in the 10 a.m. contest