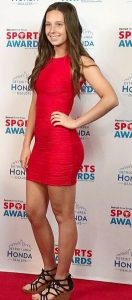 (Detroit Free Press photo)
(DETROIT) – Haley Nelson, a Sandusky High School graduate,was nominated and voted for by her community last Thursday, to be this year's I AM SPORT Award by The Detroit Free Press.
According to the Free Press, the contest is created to honor high school students who exhibit behaviors of giving back to their communities. Nelson, a three-sport standout has been a key piece to the highly successful Sandusky basketball program along with playing volleyball and softball.
She has also been heavily involved in the community, helping raise funding for physical health equipment at Diamond Trail in Sandusky and funding the the American Flag project at the County Courthouse.
Nelson stated, "It's a huge honor to win the I AM SPORT Award and it was definitely a night I'll never forget. I'm so lucky to have grown up in such a supportive community who helped me win this."
Nelson was able to spend a night walking the fabulous red carpet with two other top nominees in the state.
Within the event Thursday, May 18th a presentation was given congratulating the top three nominees and the award was presented live to Haley.