---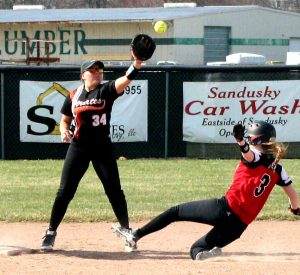 Regional action will get underway later this week for area teams. Here are the assignments for the various sports:
Girls Tennis
Division 3 hosted by St. Clair -Cros-Lex, Almont, Imlay City, Yale, Armada, Goodrich, Marine City, Notre Dame Prep, Marysville and St. Clair.
Softball
Division 2 at Cros-Lex – North Branch, Imlay City, Yale and Cros-Lex
Division 3 at Otisville-Lakeville – Brown City, Burton Atherton, Burton Bendle, Burton Bentley and Otisville-Lakeville.
Division 3 at Caro – Sandusky, Marlette, Bad Axe and Caro
Division 4 at Harbor Beach – Carsonville-Port Sanilac, Deckerville, Peck, North Huron, Ubly and Harbor Beach.
Baseball
Division 2 at Cros-Lex – North Branch, Imlay City, Yale and Cros-Lex
Division 3 at Otisville-Lakeville – Brown City, Marlette, Capac and Otisville-Lakeville
Division 3 at Caro – Sandusky, Bad Axe, Cass City and Caro
Division 4 at Sterling Heights Parkway Christian – Peck, Landmark Academy, New Life, Marine City Cardinal Mooney, Parkway Christian and New Haven Merritt
Division 4 at Kingston – Carsonville-Port Sanilac, Deckerville, Ubly, Harbor Beach and Kingston
Golf
Division 2 – Cros-Lex, Armada, St. Clair, Yale, Marysville, Clawson, Bloomfield Hills Cranbrook, Auburn Hills-Avondale, Detroit Country Day, Farmington, Eastpointe, Farmington Hills Harrison, Ferndale, Madison Heights Lamphere, , South Lyon, Warren Woods, Redford Union, Redford Thurston, Notre Dame Prep and Orchard Lake-St. Mary's
Division 4 at Ubly Heights Country Club – Brown City, Deckerville, Marlette, Sandusky, Bad Axe, Bay City All-Saints, Breckenridge, Cass City, Owen-Gage, Saginaw Nouvel, Saginaw Valley Lutheran, Ubly, Unionville-Sebewaing
Boys and Girls Regional Track assignments
Division 2 at Clio – Cros-Lex, Algonac, North Branch, Yale, St. Clair, Imlay City, Marysville, Mt. Morris, Armada, Birch Run, Bridgeport, Clio, Frankenmuth, Flint Kearsley, Lutheran North
Division 3 at Marlette – Brown City, Marlette, Sandusky, Almont, Bad Axe, Capac, Caro, Cass City, Marine City, Millington, Otisville-Lakeville, Reese, Richmond and Vassar
Division 4 at Deckerville – Carsonville-Port Sanilac, Peck, Deckerville, Akron-Fairgrove, Bay City All Saints, Ubly, North Huron, Harbor Beach, Kingston, Laker, Owen-Gage, Caseville, Mayville and Unionville-Sebewaing