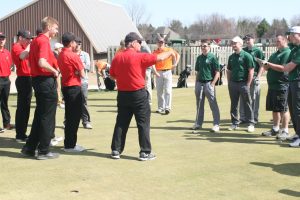 Redskin golfers playing solid golf
(SANDUSKY) – It's been a very successful spring season for the Sandusky golf team and the 'Skins kept their winning ways going in the past week, scoring a win at Ubly, tying for first at Harbor Beach and placing third in a very competitive 15-team Brown City Invitational.
At the Ubly Jamboree, Sandusky took top honors with a three shot decision over the runner-up host Bearcats 182 to 185 while Brown City was third with a round of 192. Senior Ben Jones led the way for the 'Skins, carding a 42 for second place while Parker Marks was fifth coming in to the clubhouse with a round of 46. Marshall Holt and Ethan Roggenbuck each finished with 47s' good for sixth place and Blake Kartanys finished with a 48.
At Verona Hills near harbor Beach, the Redskins tied with Brown City for top honors, both shooting scores of 190. Jones and Marks tied for medalist honors, after firing rounds of 42 while Roggenbuck carded a 51. Holt scored a 55 and Kartanys was two strokes back at 57.
At the Brown City Invitational, held at Holly Meadows near Capac, Sandusky shot 338 and placed third out of 15 teams behind Yale (320) and Marine City A (321). Jones topped the Sandusky scoring with an 18-hole total of 80 while Holt was a stroke back with his 81. marks finished with a round of 85, Roggenbuck shot 92 and Kartanys had a 93.
Eagles baseball sweep Kingston
(DECKERVILLE) – The Deckerville Eagles took a pair of NCTL baseball games from Kingston last week, winning the opener 10-4 and rolling to victory in the nightcap by a score of 11-1.
In game one, the Eagles' offense exploded for 16 hits and scored five times in the opening inning to take an early lead. Three more runs in their half of the fourth inning sealed the win.Brendan Kreiner (two runs scored) and Connor Lamont paced the Deckerville hitting attack with three hits apiece.
Jeff Stone, who drove in six runs for the winners, connected on two hits with the big blow being a home run. Wyatt Janowiak had two hits and drove in two. Zack Ostrowski picked up the win on the mound for the Eagles, scattering four hits and striking out 14 batters.
In the second game, Isaac Keinath toed the mound and allowed just three hits in five innings, striking out seven to spark his team to victory, The winners scored six times in the first inning and added three runs in the fifth to sweep the league doubleheader. Kenton Bowerman backed up Keinath's solid pitching with a 2 for 3 effort from the plate and scored three runs.
The Eagles return to action Thursday when they host Dryden and remain at home Monday, taking on Bay City All-Saints.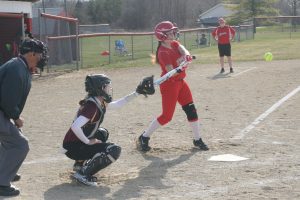 Peck softball rallies for win over All-Saints
(PECK) – Coming off a doubleheader sweep at the hands of Kingston in a crossover battle early last week, the Peck softball squad rebounded with a split of games with Bay City All-Saints.
The Lady Cardinals touched Peck for 15 runs in each of their two games earlier last week while Peck's offense fell silent. The lone hits for the Lady Pirates came from Leah Engler with a pair of hits and Abbey Bullis went 2 for 3 from the plate.
Against Bay City, Peck dropped game one 4 to 1 and rallied in the late innings for a 17-6 decision in the nightcap. With the game tied 6-6 in the fifth inning, Peck put together a nine-run rally to pull out the win.
Emma Engler sparked the Peck uprising with a double, single and five RBI while Anna Dhooghe chipped in with a single, triple and four runs batted in. Leah Engler, Bullis, Auby VanConant and Grace Sullivan all had two hits apiece to back winning pitcher Morgan Winarski who allowed eight hits, six runs and struck out six.