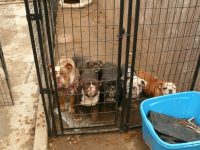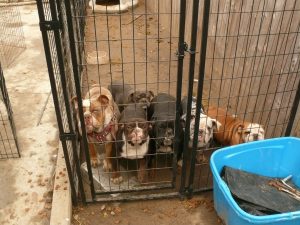 Pictured are some of the recovered dogs
(Port Huron Township) An investigation by the St. Clair County Sheriff's Office Detective Bureau has led to the recovery of several dogs from several states.
According to Sheriff Tim Donnellon, detectives were told of two separate incidents, one in Mussey Township and one in China Township, where English Bulldogs were purchased with what turned out to be stolen or fraudulent credit cards.
The original calls came into the Sheriff's Office on February 13th and February 17th.
The owner of the dog from China Township says two men who represented the person she talked to came to pick up the dog. They left with the dog before she discovered the credit card transaction was fraudulent.
The owner of the dogs from Mussey Township met with two men at 18 Mile Road and Van Dyke in Sterling Heights, where she turned over the dogs. She also found out after the dogs were gone that the credit card transactions were fraudulent.
A lengthy investigation followed, with enough information given to detectives to get a search warrant for a home in the 4300 block of 7th Street in the city of Ecorse. Ecorse Police and River Rouge Animal Control assisted detectives in execution of the search warrant on April 12th.
A total of 10 English Bulldogs and French Bulldogs were discovered at the residence and another was picked up at a home in Lincoln Park. The English Bulldog from China Township and one of three English Bulldogs from Mussey Township were among those recovered.
The dogs, some in poor condition, were taken to River Rouge Animal Control. Besides Michigan, dog breeders from Kentucky, Ohio and New York recovered their dogs.
The man whose home was raided claimed he owned the dogs. He was issued a citation for animal neglect, while Ecorse Police continue to investigate.
Detectives from the Sheriff's Office are also continuing their investigation, attempting to identify the men who took the dogs from the owners from China Township and Mussey Township and attempting to locate the two dogs from Mussey Township that are still missing.