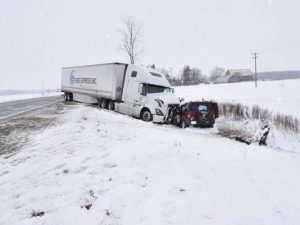 (BURNSIDE TOWNSHIP) – Two Brown City teenagers were involved in a two-vehicle accident Thursday afternoon that left a 14-year old in serious condition. According to the Lapeer County sheriff department, the teens were traveling south on Buttercup Road shortly after noon, west of Brown City, when they entered the intersection of Burnside Road and were struck broadside by a semi-truck.
Authorities said a 16-year-old Brown City girl was driving south at the time of the accident. The teens were extricated from the vehicle by Brown City and Goodland Township firefighters, using the Jaws of Life. The 14-year-old was later transferred to Hurley Medical Center in Flint while the driver was taken to McLaren in Lapeer for treatment of non-life-threatening injuries.
The 24-year old semi driver and a 23-year old passenger, both from Canada, were not injured. Police said speed, alcohol, weather, and roadway conditions do not appear to have been factors in the crash that remains under investigation.
Brown City and Goodland Township fire departments, Marlette EMS, Brown City Police, and Michigan State Police Lapeer Post assisted deputies.