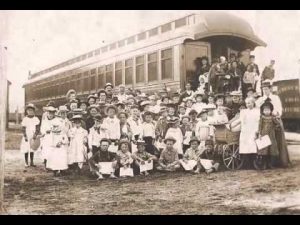 Port Sanilac, MI – The Sanilac County Historic Village & Museum recently created a survey of 14 potential lectures; to determine which topics were of most interest for their members and friends.
Based on the survey findings, the Museum is pleased to announce its 2018 Lecture Series:
May 27 – Hauntings from Bark Shanty presented by Brian Mason
June 3 – The Orphan Train in Michigan presented by Al & Dave Eicher
June 24 – Indian History of the Thumb presented by Al & Dave Eicher
September 23 – The Great Thumb Fires presented by Alan Naldrett
October 14 – The Sanilac County Poor Farm presented by David Blaine
November 11 – Gales of November presented by Ric Mixter
Sanilac County Historical Society Board President, David Blaine, said, "We are proud to be able to offer this interesting series of lectures which also supports our mission statement, 'To promote interest in the history and cultural heritage of Sanilac County.'" All lectures are held at 3pm in the Historic Church and are free for members and there is a small fee for non-members.
For more information on obtaining a membership, with prices starting at just $35 for an individual yearly membership and $50 for a family, please visit their website at www.sanilaccountymuseum.org. Memberships will also be sold 30 minutes before each lecture.
More details can be found on these lectures at www.sanilccountymuseum.org or on Facebook at Sanilac County Historic Village & Museum.
The Sanilac County Historic Village and Museum is located on M-25 in Port Sanilac. Questions can be directed to the Museum at 810-622-9946.