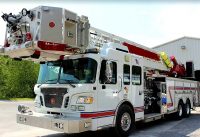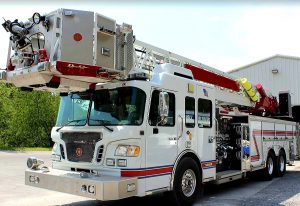 Sandusky Community Fire Department has purchased a "new" 100-foot aerial platform ladder truck
The Sandusky Community Fire Department has signed contract papers and purchased a 100-foot aerial platform ladder truck. The apparatus, with a chassis from 2009 and ladder attachment from 2013, was  repossessed from a fire department in Pennsylvania.
Documents were signed Tuesday February 20th at a Sandusky Community Fire Association meeting.
Chief Todd Hillman said the department learned of the truck through a finance company while paying off a previous loan and were able to work out a deal to pay the required $535,000 for the apparatus. The Pennsylvania fire department that originally bought the truck is still on the hook for the other half of the truck, making payments until 2035.
New ladder trucks typically cost over $1 million dollars. The Spartan Gladiator truck was used at fire shows around the country for two years before being refurbished as a 100-foot platform ladder truck. "The pump has only 30 hours on it," Chief Hillman explained. "Basically, it is a brand new truck and we happened to be in the right place at the right time. We're pretty excited about it."
The rearmount platform has a 300-gallon water tank and a 2,000 gallon per minute pump on it. It is equipped with a 525-horsepower Catepillar engine with minimal hours on it.
The Sandusky Fire Association put a $100,000 dollar down payment on the truck and financed the remaining $435,000 over 10 years. The truck has a six-man cab and can be used as an engine, to pump water, which Sandusky will need according to their Chief, when their regular engine is sent out for a complete refurbishing in the near future.
Sandusky's current 85-foot ladder truck, is around 40 years old, with a newer ladder on it. Chief Hillman said no firm plans are in place yet, but they expect to sell the truck in the future.
Sandusky fire officers traveled to Pennsylvania to see the truck last month and were able to put it through pumping operations and test drive it. Chief Hillman said plans are being made to travel to Pennsylvania in the next few days and bring the truck back to Sandusky.