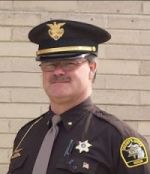 Kelly Hanson
(HURON COUNTY) – An early morning three-alarm structure fire claimed the life of a Caseville Township resident Wednesday morning. According to Huron County Sheriff Kelly Hanson, Caseville firefighters responded to a home on Crescent Beach Rd. and found the house fully engulfed. Sheriff deputies found one of two people reported possibly inside the home safe, however, firemen later found the second person on a porch passed away after suffering serious burns.
Caseville fire department was assisted by firemen from Fairhaven and Winsor Fire Departments, along with Scheurer EMS. A search warrant was obtained to allow police and fire officials to investigate the scene.
The cause of the fire is unknown and remains under investigation.