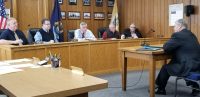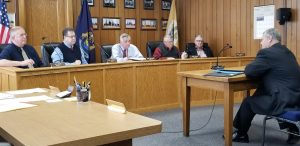 The Sanilac County Board of Commissioners held their first of three interviews this morning, asking questions of Ann Arbor Assistant Administrator/Controller Larry Collins. With a strong background in finance, budgeting and administration, Collins told the Board he would welcome the opportunity to serve the county. He served in administration in Dayton, Ohio for 30 years before moving to Bravard County in Florida for another three years as the County Fire Chief.
Collins told commissioners it is imperative to work alongside of department heads and other staff and be able to collaborate for a positive outcome. He said he always treats people with dignity and respect and feels he has a servant style of leadership.
When asked about involvement with the community, Collins said he is currently a member of the Rotary, attending Kiwanis events and has been involved with fundraising for United Way and other charities.
If selected for the position, Collins said he would need between 30 and 45 days to transition out of his current employment.
The Board is scheduled to interview two other candidates, Tara Griffith and Larry O'Keefe, this afternoon before determining what their next course of action will be.
The successful candidate will replace current Administrator/Controller Kathy Dorman who is retiring at the end of the year.