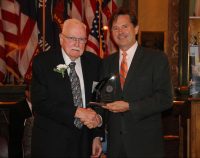 By Robert Benko
(LANSING) — A longtime area automotive researcher and preservationist received quite the honor during the fourth annual Michigan Auto Heritage Day at the State Capitol. Mr. Charles Blackman was presented the prestigious '2017 Milestone Award' at the November 1st event. The award is given each year to an individual who has gone above and beyond in the historic preservation of the automotive industry and labor movement.
Mr. Blackman, Professor Emeritus of Michigan State University, was a founding signer of the Articles of Incorporation in 1998 that established the MotorCities National Heritage Area Partnership. Since then he has remained steadfastly involved with the Lansing Stewardship Community, an advisory component of the heritage area. Blackman has spent over 50 years researching his passion for Packard Automotive, and can account for almost 97 percent of all Packard cars ever produced. It's no wonder that Blackman has been called "a legend among enthusiasts of old cars" by members of the automotive press!
"We're privileged to honor Charles as an exemplary founder of the MotorCities National Heritage Area Partnership with the 2017 Milestone Award, to recognize his outstanding support and vision," said Shawn Pornaville-Size, Executive Director of the MotorCities National Heritage Area.
In addition to the Milestone Award, MotorCities also annually bestows Awards of Excellence in three categories: Auto Preservation, Auto Heritage Tourism, and Auto Heritage Education/Interpretation. The winners for each category were announced at Auto Heritage Day, and are:
Auto Preservation: Yankee Air Museum-Save the Willow Run Bomber Plant
Auto Heritage Tourism: Haven Hill/Marge Sawruk
Auto Heritage Education/Interpretation: Uncle Jessie White-Portrait of a Delta Blues Man in Detroit/Bonnie Dean
The MotorCities National Heritage Area is one of 48 National Heritage Areas in the U.S. and the only one in Michigan. Through programming and outreach, the organization preserves, interprets and promotes the region's rich automotive and labor story. For more information, click here to visit their website.