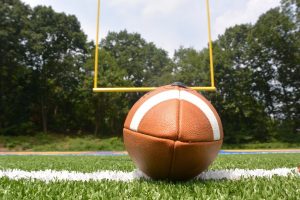 The regular season of high school football is complete and all the weeks of hard work by area teams is complete, with some being rewarded with prolonged seasons.  this week the Michigan High School Athletic Association play-offs get underway and WTGV and WBGV will be there with all the action for two Sanilac County teams.
The Deckerville Eagles – co-champs of the NCTL Stars Division, will host Mayville at 7 p.m.  John Presnell and Bob Staskiewicz will have the call on WTGV 97.7 FM with pre-game coverage at 6:30 p.m.
In other NCTL play-off action, Cliff Amey and Dave Fredrick will have the call at North Huron as the Peck Pirates venture north to take on the Stripes Division champion Warriors. Pre-game coverage on 92.5 WBGV is also set for 6:30 p.m.
Below is a schedule of play-off games for area teams:
8–PLAYER FOOTBALL
Mayville (5-4) at Deckerville (8-1) on WTGV-FM 97.7
Peck (5-4) at Kinde North Huron (8-1) on COUNTRY 92.5 WBGV-FM
Kingston (7-2) at Morrice (8-1)
DIVISION EIGHT
Ubly (7-2) at Harbor Beach (8-1)
DIVISION SEVEN
Unionville-Sebewaing (5-4) at Cass City (8-1)
Flint Hamady (7-2) at Elkton-Pigeon-Bay Port Lakers (8-1)
DIVISION FIVE
Almont (7-2) at Frankenmuth (9-1)
Richmond (7-2) at Marine City (7-2)
DIVISION TWO
Roseville (6-3) at Port Huron Northern (8-1)