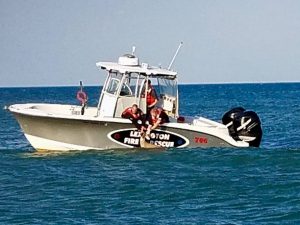 Rescuers hold a stranded buck in Lake Huron
(LEXINGTON) – Like many other first responders, the members of the Lexington Fire Department are always ready to spring in to action, no matter what the call.
Saturday afternoon, that determination and dedication took on a different twist when they were called to Lake Huron for a deer rescue. According to fire personnel, the young buck was several hundred yards off the shoreline, struggling to stay afloat around 5 p.m.
Rescuers were able to hold on the deer and motor back to shore and set it free.
None the worse for wear, the buck was last seen trotting down the shoreline, undoubtedly thinking…….oh deer!