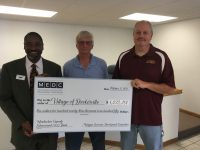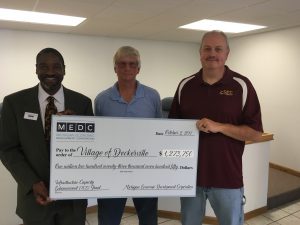 Deckerville receives their $1.2 million grant

DECKERVILLE – Village officials Monday celebrated receiving a $1.26 million grant from the Michigan Economic Development Corporation (MEDC) for much-needed water storage tower improvements.
"We've had some other grants, but as far as I know this is biggest grant that we've ever gotten and I thank the MEDC for allowing us to apply for it," said Tracy Hoff, Village supervisor.
A state legislator and a federal aide were on hand along with community members as MEDC community assistance team member Chuck Donaldson explained the village's Community Development Block Grant Infrastructure Capacity Enhancement grant. Forty-eight communities applied for the highly competitive grants totaling $72.5 million.
"This is one of the pleasures of my job … to be able to come to a community and deliver good news," said Donaldson.
The Village of Deckerville had a number issues and concerns over two water storage towers that were built in the 1930s. The old towers, 40,000 and 450,000 gallon elevated storage towers, were in very poor condition and exceeded their life expectancy.
The grant will pay for a new 300,000 gallon water tower, site work, security fencing and electrical and system controls near the village's largest tower which will be decommissioned. It will also correct serious water system deficiencies that were outlined in a Feb. 6, 2017 letter to the village from Joe Reinke, a Michigan Department of Environmental district engineer.
Hoff credits Fleis & VandenBrink project manager for helping write the grant and provide design and construction engineering.
"Gary Bartow wrote the grant and F&V did a really good job on it," he said.
The Village of Deckerville had to come up with at least a 10 percent local match, but the $140,000 it committed pales in comparison to having to pay more than half a million dollars just to refurbish the 450,000 gallon tower. Hoff also noted that the Village no longer needs as much water as it has lost a lot of industry since that used tower was put up in 1978.
"It's a no-brainer when you can get something brand new for 10 percent and it will last us another 70-80 years down the road," Hoff said.