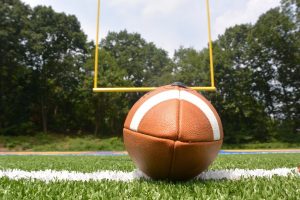 Two games were played last night in high school football action – the Deckerville Eagles remained unbeaten and moved to 5-0 overall following a lopsided 58-12 win over Dryden. Meanwhile, the Marlette Red Raiders were handed a 70-36 loss to Ubly to fall to 1-4 on the year.
In the Deckerville game, the host Eagles built a 32-0 first quarter lead and cruised from there. Isaac Keinath launched a 46-yard scoring strike to Wyatt Janowiak on the game's second play from scrimmage and Deckerville was off and running.
Kenton Bowerman played some reps at quarterback and connected with Jeffrey Stone on a 46-yard scoring strike and later returned a punt 60 yards for a touchdown. Cruz Ibarra led the winners with 13 carries for 161 yards and scored two touchdowns.
Deckerville will face a big test next week when they venture to Morrice for a key NCTL showdown that will go a long ways for either team towards a league championship. If the Eagles win, they can lock up a spot in the play-offs, plus take a big step towards another division title.
In Marlette, the Bearcats ran all over the Red Raiders, rushing for 481 yards and scoring 10 touchdowns. Casey Sweeney had 213 yards rushing and three touchdowns while George Keller rushed for 171 yards and three scored and Ethan Lemke had three scores of his own.
Marlette quarterback Marcus Armstrong had a solid night for his team, throwing for 300 yards on 25 receptions and rushed for another 52 yards. He threw four touchdown passes.
Bret Havens hauled in 12 catches for 209 yards and two scores including a 63-yarder in the third quarter.
Armstrong also found Bryce George open on a 42-year scoring toss midway through the first quarter. Marlette returns to action next week when they travel to Brown City for the annual Pink Out game with the Green Devils.
In games scheduled for tonight, Friday, September 22nd:
Week 5
GTC-East
Harbor Beach at Sandusky – 92.5 WBGV John Presnell & Cliff Amey
Brown City at Memphis
Ubly at Marlette (Thursday night)
GTC-West
Reese at Vassar
Cass City at Laker
Bad Axe at USA
BWAC
Algonac at Cros-Lex
Imlay City at Yale
Capac at Richmond
Armada at Almont
Tri-Valley – East
Essexville-Garber at Millington –
Bridgeport at Frankenmuth
North Branch at Birch Run
Caro West Branch at Ogemaw Heights
Area Games –
Marine City at Madison Heights Madison
Clawson at Marysville
Port Huron Northern at Eastpointe
Fraser at Port Huron
St Clair Shores South Lake at St Clair
8-MAN
Burton at Mayville
Dryden at Deckerville (Thursday Night)
Lawrence at Kingston
Morrice at Flint International
BCAS at Akr. Frgve.
C-PS at North Huron
Peck at Owen-Gage