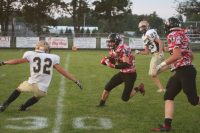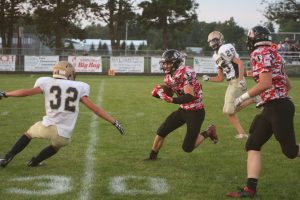 Running back Jack Sheridan scored five TDs for the Redskins
Skins shine in whipping of Yellowjackets; Veterans honored
It was a night to remember at Woodard Field in Sandusky Friday night. It was Sandusky's annual Salute to Veterans as the school paid tribute to those who have fought, or currently serving our country.  The Redskins gave everyone plenty to cheer about, putting on a dominating show enroute to a 58-14 whipping of Memphis in GTC-East play. It was the second straight week the 'Skins game was played under beautiful sunny skies and mild temperatures.
Running back Jack Sheridan took matters into his own hands early on, leading the Sandusky charge. The fleet-footed back amassed 147 yards rushing in just over two quarters of work, scoring five touchdowns. He only had seven carries in the game.
The two sides traded touchdowns in the first quarter when Sandusky took the opening kick-off and marched down field to score with 7:14 showing on the clock. Sheridan scored the first of his five TDs on a one-yard dive to give his team the early lead. Following the Yellowjackets first touchdown, Bryan Ross put the 'Skins in front for good, scoring from eight yards out for a 16-8 first quarter lead.
Braxton Washe (70 yards on three rushes) got in on the scoring fun, scampering seven yards early in the second quarter before Mr. Sheridan dominated the rest of the second half action. Playing defense, Sheridan had a "pick-six" interception, returning a pick-off 32 yards for a touchdown and followed that up with scores from 42 and 67 yards to blow the game open. Sandusky led at the half 50-8.
During halftime ceremonies, area VFW members honored Sandusky teacher George Lasecki and Sandusky students for their efforts in arranging the Moving Wall to come to Sandusky and their flag project that landed over 300 American flags on the Courthouse lawn for special events and holidays. Lasecki was presented with a beautiful sculpture that will be displayed in the high school.
When the game resumed, not quite done with his outstanding evening, Sheridan capped his memorable night with a 20 yard run early in the third quarter to put the game out of reach. Memphis scored one more meaningless TD late in the game, well after the final outcome had already been decided.
Sandusky finished the game with 326 yards rushing and added another 64 passing. Memphis managed 148 yards rushing.
This week, things get a little tougher for the Redskins when they host Harbor Beach in Sandusky's annual homecoming contest. While the pageantry and excitement will be high with all the festivities, the 'Skins will need to focus on the importance of the GTC-East showdown.
___________________
Eagles pull out win to remain undefeated
It didn't come easy, as they knew it wouldn't, but in the end, the Deckerville Eagles managed to remain undefeated this season, following a hard-fought 20-14 win over Kingston. The key NCTL Stars division showdown leaves the Eagles 4-0 overall and 3-0 in league play. Kingston suffers their first loss of the year and is now 3-1 overall and 2-1 in league action."It was a battle all the way," admitted Deckerville Coach Bill Brown. "Our team played well enough to get a tough win and it was a good test for us. To see this kind of adversity and respond positively to it, was a good thing for us. We have some tough games coming up and this one should help us as we go deeper in the season."
Deckerville took control early, scoring touchdowns in the first and second quarters before  the Cardinals got on the scoreboard. Kenton Bowerman put the Eagles on the board in the first quarter with a two-yard dive into the endzone. He later broke free on a 49-year run along the near sideline to put the Eagles up 12-0 at halftime.
Kingston's offense put together a scoring drive in the third quarter and after converting the two point conversion, only trailed 12-8 heading into the final eight minutes of play. Following a 40-yard scoring strike from Isaac Keinath to Zack Ostrowski for a Deckerville 20-8 lead, Kingston scored late in the game but failed to recover the ensuing on-side kick.
"We were able to fall on the ball and run out the clock," Coach Brown recalled. "It was a battle all the way. They are a well-coached team."
The Eagles finished the game with 206 yards rushing, adding another 76 through the airwaves. Kingston rushed for 117 yards and had 167 yards passing. Bowerman finished the game with 194 yards rushing and had two touchdowns for Deckerville. The Eagles will host Dryden Thursday of this week. The game was changed to a day earlier, due to the lack of game officials. Meanwhile, Kingston will remain at home and play a talented Lawrence squad.
_______________________
Peck rolls in win over C-PS
Coming off of a tough division loss to Bay City a week earlier, first year Coach Fidel Mendoza wanted to make sure his team was prepared for their rivalry game with Carsonville-Port Sanilac last Friday night. He didn't have to do much talking in his pre-game speech. Peck cruised to a 38-6 NCTL win.
"I was really happy with how they came out fired up and ready to play Pirate football," Mendoza said. "We gave a solid effort and played another good all around game. Carsonville is a good team and we took advantage of breaks and the plays they gave us to pick up an important win."
Running back Caleb Potter had another strong showing for Peck, rushing for over 200 yards and scoring three touchdowns. He scored a pair of first quarter TDs on long runs of 45 and 79 yards and added a 65-yard jaunt in the third quarter. Quarterback Garrett Overstreet threw for one touchdown and scored on another, with a one-yard dive. The Pirates, who managed to convert just one of six extra point conversions, finished the game with 385 yards rushing while the Tigers managed 192 yards.
"We were able to run the ball, which we wanted to do, but I would have liked to see us mix it up a bit more and through more passes," Mendoza pointed out. "The kids did a nice job of taking what they gave us." Nathan Alfaro followed up Potter's performance with 76 yards rushing on just three attempts, including one run that covered 68 yards for a touchdown.
The Pirates return to action this week when they venture to Owen-Gage while Carsonville-Port Sanilac travels to North Huron to take on a strong Warrior squad.
Week 4 scores:
GTC-East
Sandusky 58, Memphis 14
Ubly 28, Brown City 14
Harbor Beach 39, Marlette 6
GTC-West
Vassar 40, Bad Axe 24
EPBP Lakers 38, Reese 0
Cass City 18, Unionville-Sebewaing 14
BWAC
Almont 47, Croswell-Lexington 21
Richmond 34, Yale 21
Armada 16, Imlay City 6
Algonac 54, Capac 0
Tri-Valley East
Millington 41, North Branch 10
Bridgeport 38, Caro
Birch Run 44, Essexville-Garber 36
Frankenmuth 61, Tawas 6
Area
Marine City 35, Marysville 7
Port Huron Northern 7, St Clair 6
Port Huron Grosse Pointe North
8 PLAYER FOOTBALL
STARS
Deckerville 20, Kingston 14
Morrice 59, Dryden 6
Lawrence 64, Burton Madison 18
STRIPES
Bay City All Saints 69, New Haven Merritt 26
Owen-Gage 40, Akron-Fairgrove 24
North Huron 2, Caseville 0 – forfeit
Peck 38 Carsonville-Port Sanilac 6