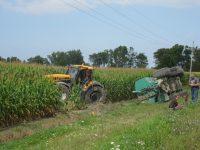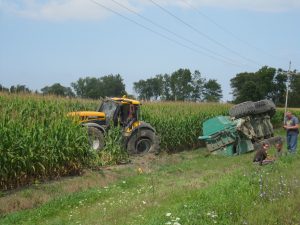 Two people were injured in a farm accident earlier this week
(LAMOTTE TOWNSHIP) – A collision between two tractors pulling manure tankers resulted in injuries to two area men early Thursday afternoon in Sanilac County's Lamotte Township.
According to Sanilac County Sheriff Deputies, one of the units was traveling north on Decker Road near Moriarty Road with an empty tanker when the tractor veered onto the shoulder and struck a driveway embankment which sent the tractor into opposite lane where the unit then struck the rear tire of a loaded tanker traveling south.
The collision sent the tractors to the opposite sides of the road where they came to rest after overturning multiple times. The driver of the northbound tractor, a 47-year-old Deckerville man, was transported to Marlette Regional Hospital for treatment then transferred to Covenant Hospital in Saginaw for additional treatment.
The southbound tractor driver, a 21-year-old Mayville man, was taken to McKenzie Health System for treatment.
The names of the drivers are currently being withheld pending further investigation.