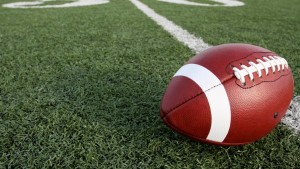 Week 2 scores

Laker 38 Sandusky 26
The Sandusky Redskins, fresh off a whipping of Imlay City in Week 1, found themselves in a dogfight last Thursday night when they traveled to Laker for a GTC crossover game. Laker used a 16-point third quarter and added an insurance touchdown in the fourth quarter to take a 38-26 win over Sandusky. The loss leaves Sandusky at 1-1 overall as they play their home opener this week, hosting Unionville-Sebewaing.
Laker, who finished the game with over 325 yards rushing, scored a pair of first half touchdowns to post a close 16-14 lead at the half. The Redskins were able to score a pair of TDs of their own, but failed to convert a two-point conversion.
The Skin's first score came on a 16 yards scamper by Bryan Ross, giving him five touchdowns on the young season. Trey Brown broke free and rumbled 41 yards for another Sandusky score before the end of the first half. A pair of Ryan Campbell to Trenton Lee touchdown passes in the fourth quarter capped the Sandusky scoring. Campbell hit Lee on TD passes of nine and 21 yards with both PAT attempts failing.
Sandusky finished the game with 242 yards rushing with Brown leading the way, gaining 76 yards on nine carries. Joe Wentzel added 64 yards on eight attempts. Laker piled up 329 yards rushing, despite fumbling three times. Both teams are now 1-1 overall.
Deckerville 52 Lawrence 0
Week 2's 8-Man NCTL Stars Division clash of league powers Lawrence and Deckerville was expected by many to be a classic battle, However, the Eagles defense had other plans in mind, stuffing the Tigers offense in a lopsided 52-0 win. It was a victory that even caught the Deckerville coaching staff off guard.
"Lawrence is a good program and we felt going in, we were going to have to play a strong game," said Deckerville Coach Bill Brown. "Our coaching staff was surprised by the final score. To put 52 points on Lawrence and holding them scoreless says something. Our kids played a great game."
The Deckerville offense piled up over 350 yards of offense, mostly on the ground while limiting Lawrence to 164 total yards. The Eagles struck first in the opening quarter with a quick touchdown pass from Isaac Keinath to Zack Ostrowski covering 14 yards. Cole Romzek added the two point run and Deckerville was off and running, literally. They amassed 348 yards rushing, led by Cruz Ibarra who finished with 256 yards on 20 attempts and scored on runs of 55 and 10 yards.
Ostrowski returned a pick-six 33 yards for a Deckerville touchdown while Romzek continued to run the ball well, scoring on runs of two and seven yards. He finished the game with 55 yards on 11 carries. Keinath threw three PAT passes, two to Jeff Stone, to cap the scoring.
The Eagles, now 2-0 overall, will play their first road game of the season Friday night when they venture to Mayville. Coach Brown knows it'll be another test for his club in a rugged league. "Our first six games will be a good test for this team. This league is very good, with a lot of talent and we have a pretty tough six weeks. It will say a lot about our team, to see how we handle this tough schedule."
Following the game with the Wildcats, Deckerville collides with a much-improved Kingston team on the Cardinals home field before returning home to host a good Dryden ballclub.
USA 14 Marlette 6
Despite dropping a hard-fought GTC crossover game to USA last week 14-6, Marlette Coach Denny Lester is pleased with the improvement of his team over a year ago and is confident the team is on the right path.
"The USA game was a tough one to loose," Lester said. "The kids played hard. We just had some mistakes and a missed opportunity to score in the second half that could have changed things."The veteran coach said his team moved deep into Patriot territory before turning the ball over.
Both team's defenses dominated the first half of action, as neither side was able to mount a successful scoring drive. With a 0-0 score to start the second half, Marlette was first to score when Marcus Armstrong connected with Brett Havens on a 31 yard scoring strike. with 5:25 showing on the clock in the third quarter. It would prove to be Marlette's only score of the night.
USA responded with a 25-yard touchdown pass and a two yard run late in the game, with just over two minutes to play, for the decisive points to post the win. The Red Raiders dominated the passing game, as Armstrong completed 12 of 20 attempts for 115 yards but the Patriots flexed their muscle on the ground, rushing for 256 yards.
Marlette will play their home opener this week when Laker pays a visit in a GTC crossover contest Friday night. The following week, the Red Raiders will begin GTC-East play at Harbor Beach against a solid Pirate squad.
Cros-Lex 29 Imlay City 26
The Cros-Lex Pioneers needed a touchdown with under a minute to play to pull out a sloppy 29-26 win over BWAC opponent Imlay City last week.  Neither team was able to establish much of an offense in the opening quarter that lasted 45 minutes alone, due to a near constant flow of penalty flags. In the end, quarterback Joey Johnston capped a scoring drive with 0:49 showing on the clock when he connected with sophomore receiver Jake Noll on a 14-yard TD pass to rally for the win. Pioneer Coach Garrett Grundman said despite the rough night of penalties and turnovers, "I was glad to see the guys keep their composure and pull out teh win." Grundman said his team managed to peel off over 500 yards of offense, with two long scoring throws to Paul Scarmuzzino from Johnston helping the Cros-Lex cause. The Pioneers begin a rugged stretch of their schedule in Week 3 Friday night when they host Richmond in another key league showdown. Waiting for Cros-Lex the following week are the Almont Raiders.
In other area games, Brown City fell to 0-2 following a 50-26 loss to Vassar, Carsonville-Port Sanilac dropped to 0-2 overall after suffering a 56-12 setback to bay City All-Saints, Peck scored a 44-0 win over Caseville for their first win of the year. Friday night, the Pirates host the All-Saints in a 8-man conference game, C-PS will hope for their first win of the year when they host Caseville and Brown City's task doesn't get any easier as they host GTC crossover foe Cass City.