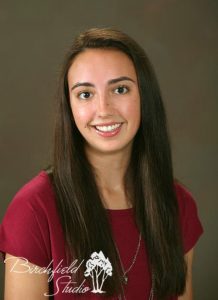 (Marlette)  – Renee Miller, co-Valedictorian from Marlette Jr./Sr. High School is the recipient of the Terry and Jackie Reid Scholarship. Renee has been a member of the National Honor Society, Business Professionals of America, Student Council, Math Academic Games, and Band.
She also participated in cross country, track, and several honors bands for four years. Renee was selected as First Team Academic All-Conference in the GTC East, DAR Good Citizen of the Nipissing Chapter. T
his fall, Renee plans to attend Calvin College in Grand Rapids. Renee is the daughter of David and Carla Miller.
The Terry and Jackie Reid Scholarship was created in tribute to the Reids for their significant, positive influence on countless students across the Thumb.
Terry Reid was a longtime Marlette basketball coach, teacher, and athletics administrator. The Reid family is deeply involved in programs administered by Heaven Sent Ministries and the First United Methodist Church.
The scholarship is available to graduating students of Marlette High School who embody the best qualities of the student-athlete – like their grandson, Kyle Hall, who died in July 2011, just weeks after completing his studies at MHS.
Candidates must be student-athletes in good standing during at least their junior and senior years and have earned cumulative grade-point averages of 2.5 (on a 4.0 scale) or better. Applicants who plan to major in education in college are encouraged and preferred, but the scholarship is available to students pursuing other courses of study.
The Sanilac County Community Foundation administers the Terry and Jackie Reid Scholarship.
More information, including how to donate to this or other scholarship programs managed by the foundation, is available from Executive Director, Melissa Anderson at 810-648-3634.