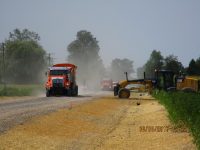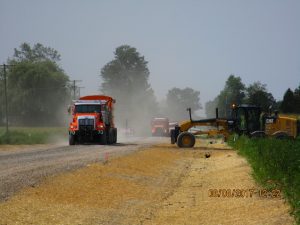 Sanilac County Road Commission workers have been busy on gravel roads this summer
Sanilac County Road Commission employees have poured over 11,000 ton of gravel on county roads this summer, just in the past several weeks. Engineer Robb Falls said it has been a busy summer of gravel patching and re-construction work and he predicted work will continue through the fall, as long as the weather is good. Among the most recent applications of gravel, nearly 5,000 ton was dumped in Custer Township with nearly 2,400 ton more in Forester Township.
The Cass City Road reconstruction project was one of the larger jobs tackled by county road employees and has been completed. Falls said two bridge projects, Mills Road bridge at a cost of nearly $635,000 and the Marlette Road bridge, will be on-going for several weeks.
Albrecht Sand and Gravel have been kept busy this summer, re-paving more than 48 miles of county roads with more work scheduled yet this fall. Old 51, from Carsonville to Croswell will see a new thin-layered overlay of asphalt beginning in September.
Falls expects the million dollar project to take about two weeks once work begins.