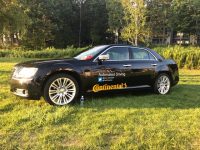 By Bob Benko 
(Traverse City) — Two automated driving vehicles traveled more than 300 miles before arriving in Traverse City for the Center for Automotive Research's annual Management Briefing Seminars. The automated vehicles even crossed the border into Canada and back as part of the trip. The first cross-border demonstration of its kind, the drive allowed the Michigan Department of Transportation (MDOT) and the Ontario Ministry of Transportation (MTO) to test automated driving technology in a variety of settings.

"The MDOT team is happy to support the auto industry and job providers as they keep Michigan in its historical position as the world's leader in mobility," said Kirk T. Steudle, Director, MDOT. "Today's cross-border demonstration of an automated vehicle represents unprecedented collaboration between two nations and private industry."
The demonstration was part of a combined effort by Magna Electronics and Continental Technologies. Through Continental's "Cruising Chauffeur" function, the vehicles were able to take over driving tasks on various roadways in accordance with traffic regulations. Once Cruising Chauffeur is activated, data analyzed in a central control unit is used to generate a 360-degree model of the vehicle's surroundings. In combination with a high-resolution map, the system recognizes all moving and static objects, as well as the layout of the roadway ahead.
To mark the event, MDOT and OMT signed a memorandum of understanding at the drive's completion in Traverse City, where attendees of the Center for Automotive Research's Management Briefing Seminars were able to get an up-close look at the vehicles.
"Continental has been testing automated driving on public roads for more than five years," said Jeff Klei, President, Continental North America. "Approximately 95 percent of all road accidents involve human error. Saving lives and reducing injuries will always be our priority in developing new technologies at Continental. That's what we call our Vision Zero–our goal of having no fatalities and no injuries as a result of traffic accidents."