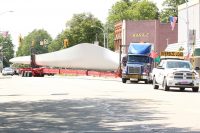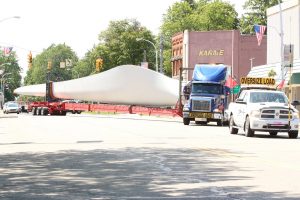 (Sandusky) – Another convoy of wind turbines navigated their way through Sandusky Tuesday, on their way to another wind park in the Thumb. Work has been on-going, preparing sites, special road access drives and foundations for the installation of the giant towers.
Visitors in downtown Sandusky had quite the conversation piece to discuss at coffee shops when six wind turbine blades twisted their way through the intersection of M-19 and M-46, headed east.
According to Sandusky Police Chief Bret Lester, the blades are headed to the Forester area. Lester said there are a total of 50 blades scheduled to come through Sandusky within the next 30 days
Traffic was shut down in all directions while the large trucks navigated the tight turn.