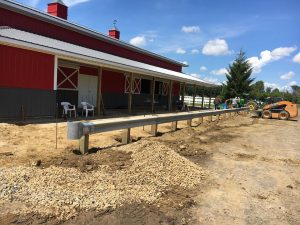 (Sandusky) – After working on the project for the past several months, the Sanilac FFA Boosters and Alumni will host a dedication celebration ceremony for the new Miracle of Life building at the Sanilac County fairgrounds. The August 10th event will showcase the popular fair attraction, giving the public their first glimpse of the hard work of many volunteers.
The 6 p.m. event will highlight the revealing of the attraction's new name and honor more than 50 donors who helped construct the state-of-the-art facility.
Thousands of people have visited the Miracle of Life exhibit in recent years, under a tent tilled with baby animals of all shapes and sizes. With the new barn, the exhibit will be able to expand, provide a more spacious atmosphere for visitors and a more comfortable home for the animals.