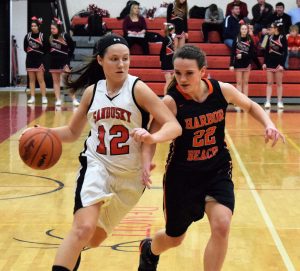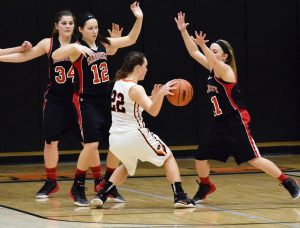 Athletes from around the area will be hitting the field of competition yet again, this time in the St. Clair County Community College Skippers Senior All-Star games that begin Thursday, June 15.
A golf tournament kicks things off on Thursday with action continuing through next Tuesday, when the top high school senior softball players take to the diamond.
Some of the best senior high school athletes from the Blue Water Area will be participating in golf, volleyball, basketball, baseball and softball events.
Tickets for the volleyball and basketball games are $5 for adults, $3 for students and free for seniors 65 and older. Donations will be accepted at the softball and baseball games.
Below is the complete schedule of the events, and the rosters for each team.
Later next week, the annual Thumb Sportswriters Association East vs West All-Star basketball games for boys and girls will be held in Sandusky at the Mark S Hund gymnasium on Friday evening.
In addition to the games, which features top-notch seniors from throughout the Thumb, there will be a slam dunk contest and a three-point shooting contest.
Golf: 2 p.m. Thursday, June 15, at Port Huron Golf Club
Austin Bara, Imlay City
Jarrod Belli, Marine City
Eric Conn, Almont
Justin Furhman, Yale
Noah Kosal, Richmond
Adam Lemoine, St. Clair
Alex Mayer, Port Huron Northern
Austin Miller, Almont
Marcel Munger, Croswell-Lexington
Kurtis Obermyer, Port Huron Northern
Collin Rogers, Marine City
Brandon Saikowski, Richmond
Tanner Tabin, Croswell-Lexington
Libby Huston, Yale
Cassidy Koschnitzke, Port Huron Northern
Volleyball: 7 p.m. Thursday, June 15, at Port Huron Northern
GREEN TEAM
Becki Krause, Brown City
Breigha Donnelly, Brown City
Elizabeth Kerby, Almont
Mickayla Benenati, Almont
Alexia Mason, Brown City
Jasmin Bender, Brown City
Aubrey Battani, Almont
Megan Kreger, Memphis
COACH: Jenna Welke, Brown City
BLUE TEAM
Brooke Bowerman, Port Huron Northern
Kira Scahill, Port Huron Northern
Hannah Walendowski, Marine City
Karyssa Austin, Marine City
Marissa Hartman, Port Huron Northern
Desaray DeSnyder, Marine City
Bree Bauer, Port Huron Northern
Paige Tranchida, Marine City
COACH: Tim Langolf, Port Huron Northern
GOLD TEAM
Claire Knapp, Croswell-Lexington
Madison Hirn, Harbor Beach
Hannah Kady, Marlette
Brooklyn Paradoski, Croswell-Lexington
Becca Oden, Croswell-Lexington
Ashley Wypych, Port Huron High
Lauren Steen, Yale
COACH: Ryan Wilson, Croswell-Lexington
WHITE TEAM
Taylor Kehoe, Armada
Raechel McKiernan, Richmond
Brianna Fistler, Armada
Jackie Jensen, St. Clair
Mikayla Mlot, Richmond
Amy Thueme, Richmond
Hope Meyers, St. Clair
Karli Minor, St. Clair
COACH: Laura Papa, Armada
Girls Basketball: 7 p.m. Friday, June 16, at Port Huron Northern
BLUE TEAM
Antonia Potvin, Marine City
Becki Krause, Brown City
Alissa Bradeen, Marlette
Danielle Gabbard, Brown City
Mya Rhodes, Marysville
Kiara Kelley, Marysville
Karyssa Austin, Marine City
Caitlin Quade, Marlette
Claire Knapp, Cros-Lex
Calli Townsend, Cros-Lex
Paige Tranchida, Marine City
Rebecca Oden, Cros-Lex,
Coach: Jeff Austin, Marine City
GOLD TEAM
Lindsey Crane, Port Huron High
Ally Blank, Sandusky
Kendyl Keyes, Port Huron Northern
Sydney Kincaid, Yale
Kathleen O'Connor, Port Huron Northern
McKenna Wolschleger, Harbor Beach
Madison Armstrong, Sandusky
Tiffany Hoover, Kimball Landmark Academy
Jenna Koppinger, Port Huron Northern
Jenna Arndt, Harbor Beach
Bree Bauer, Port Huron Northern
Jessica Kursinsky. Sandusky
Coach: Jim Tamlyn, Harbor Beach
Boys Basketball: 8:30 p.m. Friday, June 16, at Port Huron Northern
BLUE TEAM
Jose Bartolomei Castro, Imlay City
Marcel Munger, Cros-Lex
Barret George, Marlette
Brady Kirsch, Harbor Beach
Matt Baravik, Port Huron Northern
Billy Fealko, Port Huron Northern
Isaac Dale, Marlette
Nick Trimble, Port Huron Northern
Devin Dombrow, St. Clair
Tyler Lee, Port Huron High
Griffin Schirmer, Imlay City
Ethan McKenney, Marlette
COACH: Don Gauthier, Imlay City
WHITE TEAM
Anthony Tavano, Richmond
Eric Conn, Almont
Dylan Kiger, Marysville
Matt Donnellon, Yale
D'Sean Hamilton, Richmond
Luke McClelland, Yale
Dylan Dankenbring
Jared Couch, Armada
Ross Hinkley, Marysville
Zach Revoldt, Almont
Ben Ratkov, Anchor Bay
Wesley Wolschleger, Memphis
COACH: Nick Kuroski, Memphis
Baseball: 7 p.m. Monday, June 19, at Sanborn Park
BLUE TEAM
Logan Wheeler, Sandusky
Kody Lafleur, Peck
Jared Couch, Armada
Nick Trimble, Port Huron Northern
Austin Fritch, Deckerville
Justin Johnston, Croswell-Lexington
Matt Donnellon, Yale
Jared Ramsey, Yale
Ethan McKenney, Marlette
Austin Howard, Port Huron Northern
Caleb Muxlow, Brown City
Cade Seiler, Sandusky
Dakota Brecht, Capac
Nick Forsberg, Croswell-Lexington
Jake Parski, Capac
Coaches: Todd Walker, Deckerville and Calvin Bassil, Croswell-Lexington
WHITE TEAM
Ryan Sommers, Marine City
Kohle Sobol, Marine City
Zane King, Marysville
John Heffner, Memphis
Sam Winston, St. Clair
Kyle Gross, Memphis
Phil Griffor, Marysville
Nick Pica, Almont
Austin Shivers, Memphis
Kyle Tschiggfrey, Richmond
Justin Bartolomucci, Algonac
Sean Wendling, Memphis
Dan DeBlauwe, Almont
Nick Macias, Memphis
Zach Revoldt, Almont
Evan Miller, Anchor Bay
Coach: Scott Thaler, Algonac; Assistant: Mike Stephenson, Algonac
Softball: 7 p.m. Tuesday, June 20, at Pine Grove Park
BLUE TEAM
Breigha Donnelly, Brown City
Kenady Kaufman, Imlay City
Jasmin Bender, Brown City
Claire Knapp, Croswell-Lexington
Cassidy Koschnitzke, Port Huron Northern
Becki Krause, Brown City
Alexa Landschoot, St. Clair
Katelyn Patterson, Sandusky
Lexi Orr, Port Huron Northern
Melissa Rahn, Imlay City
Abbey Shell, Peck
Brooklyn Smith, Yale
Madison Armstrong, Sandusky
Rebecca Oden, Croswell-Lexington
Sam VanConant, Yale
Morgan Markel, St. Clair
Heidi Likins, St. Clair
COACH: Jean Bannister, Imlay City
GOLD TEAM
Megan Orlando, Capac
Amy Thueme, Richmond
Ashlee Will, Marysville
Taylor Kehoe, Armada
Katie Lewandowski, Marysville
Sofia Tomeo, Memphis
Raechel McKiernan, Richmond
Lydia Sawdon, Marysville
Ally Fetterly, Port Huron High
Allison Romzek, Ubly
Angela Coules, Richmond
Megan Kreger, Memphis
Desaray DeSnyder, Marine City
Jenna Crowe, Anchor Bay
Brooke Keding, Armada
Natalie Jankowski, Armada
Kristen Stanek, Almont
Coach: Howard Stuart, Richmond. Assistants:  Kevin Caperton, Nicole Clark, John Foster, Richmond