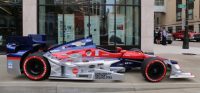 By Bob Benko
(DETROIT) — Drivers, racing executives, and members of the media gathered for a preview of the upcoming 2017 Chevrolet Detroit Grand Prix set to take place June 2-4 at Belle Isle Park. Attendees of the luncheon and gathering even enjoyed a performance from a live band, featuring defending champion Indy Car driver Will Power on drums.
The first Detroit Grand Prix was in 1982 and started as a Formula One race through the streets of Detroit before becoming a CART-sanctioned race in 1989. The race moved to Belle Isle in 1992, and continued at that location until 2001, when it was moved to alternate locations. The success of the 2006 Super Bowl prompted Roger Penske and the Downtown Detroit Partnership to team up to bring the annual national sporting event back to Belle Isle in 2007.
You can catch the 2017 Chevrolet Detroit Grand Prix Saturday, June 3rd at 3:30 p.m. on your local ABC channel.