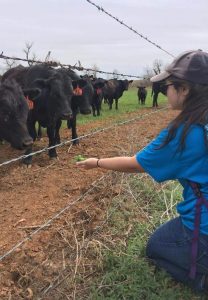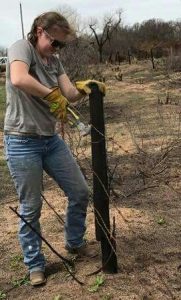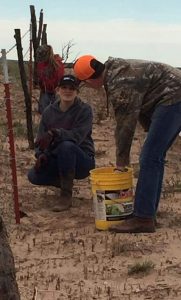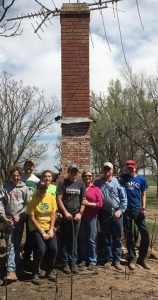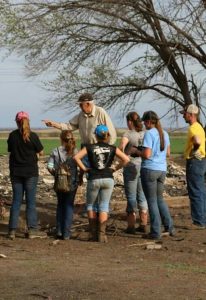 A large contingent of 4-H youth and their leaders traveled to Ashland, Kansas to help ranchers rebuild after wildfires swept the area.
When the call was put out, 4-H youth and leaders from Sanilac County quickly responded with a resounding, "how soon before we go".  Sanilac County 4-H Co-coordinator Colleen Wallace made a phone call to Ashland, Kansas, prior to Spring Break, asking what ranchers in the fire ravaged area needed. The answer came quick and firm, "we need bodies to help with the fencing."
Wildfires, fanned by gusty, swirling winds, ripped across more than two million acres of land in parts of Kansas, Texas, Oklahoma and Colorado in early March. What hundreds of ranchers and farmers had spent their lives building was destroyed within a matter of hours and days. Michigan was among those states that immediately responded, with countless convoys of large hay bales, fencing materials and other needs. Within days, 4-H organizers in a multi-state area, including Wallace, worked to supply manpower to help those who lost thousands of miles of fencing.
April 7th, over 60 4-H youth and leaders piled in to a motorcoach bus and a motorhome in the parking lot of Wal-mart in Sandusky, Michigan, bound for Ashland, Kansas and what would turn out to be a life-changing experience. Many volunteers didn't give it a second thought, giving up their Spring Break to make the trip, Others, like Wallace and her two daughters, left their vacation site and traveled 17 hour to meet up with the group to lend a helping hand. The grouip spent a large share of their time tearing down old fencing and helping clean up burned down homes and barns.
"We were in Tennessee and already knew we were going to drive across and meet the group when they got their last Saturday morning," Wallace explained. "We weren't about to miss out on this great opportunity and the girls and I were excited to be a part of it." The Wallace family, and their two pet ducks, (more on that later) welcomed the Michigan contingent around 8 a.m. April 8th and began what several called a life-changing trip.
One 4-Her said, "This trip was truly nothing less than absolutely humbling… this trip made me realize how important it is to help others out, whether it's across the road or across the country. The people in Ashland  were the nicest people I have ever met, and definitely the most trusting. I learned a lot on this trip- more than any book or story could ever tell. It was the most life changing experience I have ever, and will probably ever have. I was truly blessed to go and help such wonderful people when they needed it most. Thank you to everyone who helped put this together and make this possible."
Those kinds of stories were repeated over and over by the 4-H youth who made the trip. Along with the Sanilac County contingent were 4-Hers from throughout the Thumb and other Michigan cities. One young lady came all the way down from the Upper Peninsula's community of Kingsford, by herself, to make the trip to the southern states.
Back to the ducks. Wallaces' daughter Riley decided prior to the trip, she wanted to buy a pair of ducklings. She made the purchase, without her mother knowing and the young webbed-feet, fury friends made the trip. Across 13 states, and back to Michigan.
"Chris and Tulip" were troopers, according to Riley. "Mom wasn't too crazy about it at first, but she got used to them," she said with a smile. "I took care of them, fed them. Gave them water and let them play in the tub in the motel. They did really good. Mom got made a couple of times and gave them to me to take care of. They're so cute."
The 4-H kids and leaders returned back to Sandusky April 10th, tired and rewarded in a way they never dreamed of. They were informed to bring $50 each to help cover the costs of the bus. However, after an overwhelming response to as pleas for support, the kids instead were given the money back and in turn, donated their money – to the tune of over $3,000 to ranchers and a camp that cared for them.
Cady Wallace summed up the trip saying, "I saw things I never thought I would. It was too fast of a trip and they tried to keep us there. They were really nice people and we felt bad for them. They were so happy to see us and to have us helping them."
The Wallace family, and many others, are already making plans to return to the plain states this summer and help ranchers rebuild their livelihoods.  "We all can't wait to go back" Colleen Wallace said. "We went there not knowing anyone down there, and now, they are like family to us."