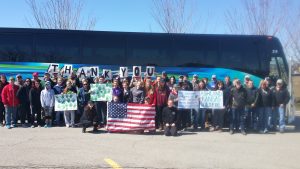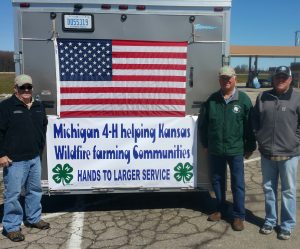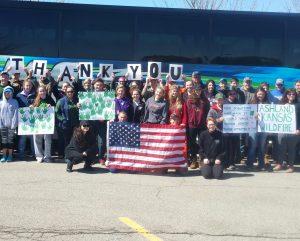 Area 4-H youth and leaders hit the road Friday afternoon, headed for Ashland, Kansas to help ranchers rebuild fencing after wildfires destroyed thousands of acres. They should arrive Saturday morning and return home sometime Monday.
(Sandusky) – 4-H youth from throughout the state converged on Sandusky on a chilly Friday afternoon, gathering for a common cause. After word spread of a desperate need of help rebuilding fencing in Ashland, Kansas, Sanilac County and other 4-H groups stepped up to the plate. Sanilac County 4-H Fair Board President Doug Gordon said he didn't hesitate at the chance to help and was a key cog in organizing the efforts. "It took us about two weeks to get this together and it's been a great response," Gordon stated. "Once word got out, we had businesses and individuals donate and help cover the cost of the bus so it's not costing the kids anything."
4-H members making the trip each brought fifty dollars with them and once they learned they did not have to help cover the cost of the bus, they are being given the opportunity to donate the money to needy ranchers and fellow 4-H members in Ashland, Kansas. Sanilac County 4-H Coordinator Colleen Wallace said she never blinked when the opportunity presented itself. "It is going to be a great life lesson for all of those who go," Wallace predicted. "I am so proud of our kids for stepping up, and the kids from the other counties. They can be proud of what they've done, but really, for them, it's just a chance to lend a helping hand. None of them complained about the travel schedule or the short quick trip."
Wallace said the bus, and a motor-home and trailer following the group, is slated to arrive in Ashland early Saturday morning.  "They should be there around 7 a.m., have breakfast and then get to work. They'll work all day with ranchers, rolling up burned wire and pulling posts and helping put up new fencing. This is a working trip, not a vacation," she said.
The 4-H kids will meet fellow 4-H'ers from Ashland Saturday night and have a chance to learn about caring for orphaned calves who lost their mothers in the wildfires.  Wallace added, "Sunday morning, it'll be more work all day and then get on the bus and come home. We are all so proud of the kids for wanting to help." 4-H kids from Sanilac, St. Clair and Lapeer counties were scheduled to make the trip.
Perhaps the one who traveled the furthers, was a young lady from a 4-H club in Kingsford Michigan, in the Upper Peninsula who said she heard about the trip and wanted to be a part of it. She said, "the ranchers and families have lost so much down there, I wanted to go and be a part of it and try to help them."
Congratulations to everyone making the trip and making Michigan 4-H groups proud.