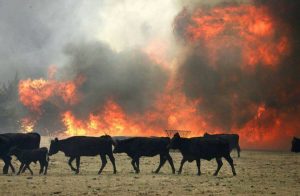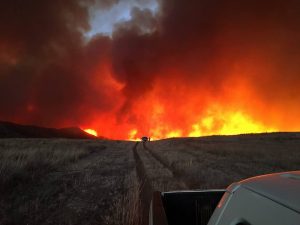 Wildland fires scorched thousands of acres in Kansas, Oklahoma, Texas and Colordao
(Sandusky) – Relief aid to ranchers in southern states who suffered tremendous loss due to wildfires is not limited to just the large number of trucking convoys. On Friday afternoon, a large bus, filled with 60 4-H youth and leaders will be departing the Walmart parking lot Sandusky on a quick weekend trip to help ranchers in Ashland, Kansas.
Sanilac County 4-H Coordinator Colleen Wallace has been busy organizing the trip. Wallace said the trip will be a life-changing experience for everyone and they are all looking forward to doing their part to help.
She said they will depart Friday and arrive, ready to go to work Saturday morning. The group will experience a hands-on task of helping ranchers clear burned fence lines and replace the damage with new posts and fencing.
In the evening, they hope to have the opportunity to meet some fellow 4-H youth from Kansas who have been helping out by caring for orphaned calves.
The group, largely from Sanilac, Lapeer and St. Clair counties, expects to return to Sandusky sometime Monday. They no doubt will have plenty of stories and experiences to share when they arrive home next week, and will have a memory etched in the minds that will last a lifetime.