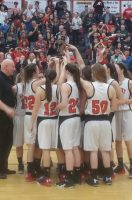 Sandusky 47 Reese 35 – The Sandusky Lady Redskins won their fourth straight district title with a hard fought win. It is their 13th title in 15 years and 25th in program history. Sandusky (23-0 overall and ranked #1 in the state for Class C) raced out to a 16-1 first quarter lead and fought off a stubborn Rocket team to seal the win. They now advance to the Flint Hamady regional where they will take on Brown City Tuesday afternoon at 5:30 p.m. Sophomore Gabby Gough led the winners with 16 points and Madysen Jansen had 11. The duo combined for 9 of 11 free throws late in the game. Reese finishes the season with a fine 20-3 mark.
Brown City 66 Capac 32 – Home cooking was just what the Lady Green Devils needed as they, like Sandusky, hosted a Class C district championship game Friday night and set up a GTC-East showdown in Flint Tuesday with a solid win over Capac. Kendal Muxlow put on quite a show, scoring 21 points, 19 of which came in the first half. Brown City jumped out in front 30-6 in the first quarter and never looked back. Muxlow drained five triples and had eight rebounds. Becki Krause also had a big night for Brown City scoring 19 points along with 12 assists and seven rebounds. The Lady Green Devils now take on Sandusky in the first of two games Tuesday in Flint. The winner will advance to the regional Finals to play either Harbor Beach or Flint Hamady.
Deckerville 36 Peck 32 – The Lady Pirates tried to pull off another upset of Deckerville, but ran out of time in a Class D championship game at North Huron. Deckerville jumped out in front early and had to hold off a Peck rally to secure the title. Earlier in the season, Peck trailed big and came back to beat the Lady Eagles in overtime. Kylee Colesa led the winners with 11 points and Kaylee Ureel had a game high 13 for Peck. Deckeville advances to Tuesday's Class D regionals at Merrill where they will take on Genesee Christian.
Cros-Lex 57 North Branch 28 – Just as they have all season long, the Cros-Lex Lady Pioneers took care of business and claimed another Class B district championship. The outcome was never in doubt as the BWAC champs led big from the start. Rebecca Oden led the way for the Lady Pioneers with 12 points while Claire Knapp and Calli Townsend each chipped in with 10. Cros-Lex, now 20-3 overall, advances to the Yale district and will tangle with state ranked Detroit Country Day (21-1) Tuesday night.
Harbor Beach 48 Laker 17 – The Lady Pirates advanced to the Flint Hamady regional with a lopsided win over GTC-West member Laker. The 'Beach never trailed in the game and played outstanding defense to spark the to the win. McKenna Wolshleger paced the HB scoring attack with 16 points and Jenna Arndt had 11. The Lady Pirates, now 17-5 overall will take on Flint Hamady who is 16-5, following the Sandusky and Brown City contest.