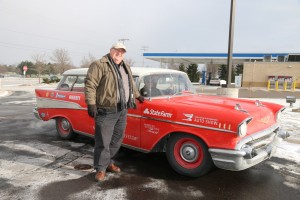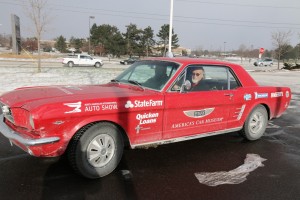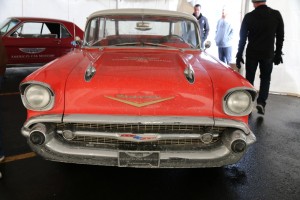 (Okemos) – "The Drive Home II; The Heritage Run" hosted by America's Car Museum, completed their 2,150 mile trek across the United States yesterday when they pulled in to the North American International Auto Show in Detroit. Along the way, they took part in auto-themed celebrations in many cities, including a stop in the Lansing area, before arriving at their destination.
During their stop at Michelin and Belle Tire's Cars and Cocoa event in Okemos, local auto buffs were able to see classic cars and visit with the drivers. The ACM event was one of three taking place across the country as vintage cars battled against the elements of winter to help raise awareness of our nation's motoring legacy. The cars will be on display at the NAIAS.
Among those in the group that stopped at Okemos was a 1957 Chevy Nomad, a 1961 Chrysler 300G, a 1966 Ford Mustang and a 1917 Crane Simplex Model 5 owned by J.D. Rockefeller.