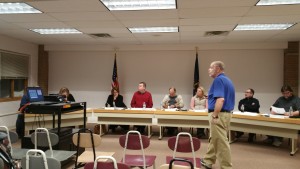 (Sandusky) – Two firms specializing in Superintendent searches made presentations to the Sandusky school board Wednesday night as they begin the process of looking for a successor to retiring Supt. Michael Carmean.  Representatives from Michigan Association of School Boards and Michigan Leadership Institute spoke to the board how they would assist in the search. Scott Morrell of MASB told the board this decision is one of the largest they will ever make. He said with his firm, it would be a 12 to 14 week process at a cost not to exceed $5,500.
He envisioned having Sandusky's next superintendent in place by July 1 and felt it was important to have input of staff, students and community members throughout the process. When asked about the possibility of there being an internal candidate, Morrell said if the board chose to, an interview could be conducted to see how the board wished to proceed.
He pointed out, the cost of the search would be considerably less and it would be important to do an internal candidate first, if there is one. Otherwise, external candidates tend to shy away from the district, knowing an internal candidate is being considered.
Charles Andrews of MLI said his firm is busy assisting with several districts in the Thumb region including Croswell-Lexington, Lakeville and Harbor Beach. Andrews said the process would be approximately 12 weeks at a cost of $4,800. With several searches going on in the area, Andrews said he'd have to "schedule carefully to fit Sandusky in."
Later in the meeting, board members shared thoughts about both firms. Board President Dr. Robert Hassler said he was concerned "that MLI was going to squeeze us in, while MASB would be working with only us, and focusing on whatever we determine our needs for a superintendent are."
The board voted to hire MASB to be their search firm and anticipate beginning the process after the Christmas break.