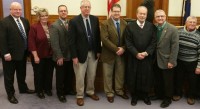 (Sandusky) – There were smiles all around in Circuit Court late Tuesday afternoon as several County elected officials took their Oath of Office from Honorable Judge Donald Teeple. The five members of the Sanilac County Board of Commissioners were sworn in, including newly elected Bob Conley, Gary Heberling and Paul Muxlow. Incumbent members John Hoffman and Dan Dean also took their oath.  Muxlow is in for quite a change of government, after serving as a State Representative for many years. His term in Lansing was up and he said he wanted to continue to stay involved in local government and help where he could.  Conley, a longtime public official for Flynn Township, said he hopes to implement a plan using students from all seven of the county's schools to get the young people involved in government. He has also been part of a group of people looking at Delaware park to see how it can be best used in the future.
Long time public servant Prosecutor James Young has over 30 years under his belt and is beginning his ninth term as the County's Prosecutor. He said he is thankful for the support shown by County residents over the years and he intends to continue to work hard for the public. Young said it is important to be able to work alongside of other county employees and and noted Sanilac has some of the best staff around.
Others taking their oath included County Clerk Denise McGuire, Treasurer Tricia Nichol, Road Commissioner Ron Gerstenberger, Drain Commissioner Greg Alexander and County Surveyor John Millitecs. Both Alexander and Gerstenberger begin their third terms of office and McGuire is starting her second term.