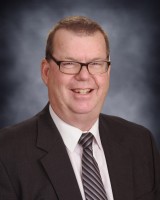 (SANDUSKY) — Sandusky Community Schools Superintendent Mike Carmean has announced that he is retiring when the current school year ends in June. Carmean, who has been in the education field for 39 years, says he did not take the decision lightly.
"You know, sometimes, it's just time. This has been a good career, and this is a difficult decision to leave. Sandusky has been such a great place for me to work and a great community," Carmean says.
Carmean says his decision to leave is based primarily on personal reasons.
"Most people don't realize that my wife and I don't live together during the week because she lives in the Flint area. So this will give us an opportunity to be back living together and going on to the next stage of our life."
He adds that he's most proud of the way the staff, students and community have worked together toward one common goal–to give our children the best education.
Carmean's resignation was accepted during Wednesday's school board meeting. The board has directed him to contact the Michigan Association of School Boards and the Michigan Education Institute to make presentations to assist in the search for a new superintendent.