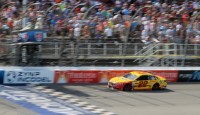 (BROOKLYN, MI) — Joey Logano used numerous flawless restarts and near perfect execution to win the FireKeepers Casino 400 on Sunday at Michigan International Speedway. The race featured action all over the track throughout the day as the drivers were forced to use all of their skills to control the car. Cars were sideways coming out of turns throughout the day, a product of NASCAR's new aerodynamic package reducing the downforce and sideforce in the cars. And it didn't take long for drivers to test the limits; on the first lap drivers went four wide and the action never stopped from there. It was Logano, however, who showed his dominance throughout the race.
"Everyone knows that this is Ford's backyard and Roger's (Penske) backyard," Logano said. "It's a great place to win."
The victory was of even more importance because of the area's close association with Ford Motor Company. The win also means that Ford is the winner of the Michigan Heritage for the second time since its inception in 2013. Ironically, Logano was the winner both times.
"Yeah, obviously racing is hugely important to us at Ford; it's part of our DNA," said Dave Pericak, global director of Ford Performance. "So to be able to win in our backyard means a lot to us, and then obviously to take this trophy home and share it with all of our employees – we have 1,400 employees here today sharing this win with us today, so obviously that's really special to us, and obviously to be able to do all of this and celebrate Roush Yates' 100th win in Cup is just absolutely phenomenal. It just means the world to us."
Logano was able to take advantage by taking the lead on the restart all but one time. He says that he didn't know what the one mistake was that he made on the restart, but that didn't affect him as he finished the race strong.
"I don't want to know too much while inside the car," Logano said. "The bare necessities is what I need to know as a driver to get the most out of the car," Logano said after the race.
The race featured the young stars in NASCAR with Logano, Elliott and Larson finishing in the top three spots.
This is Logano's 15th victory in 271 NASCAR Sprint Cup Series races. It's also his first victory and ninth top-10 finish in 2016.