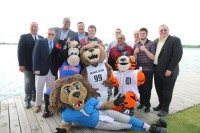 (PORT HURON) — For the first time in its seven year history, the Pro-Team Challenge, known unofficially as the "race within the race," will be recognized as an official class for the 2016 Bell's Beer Bayview Mackinac Race–commonly referred to as the Port Huron to Mackinac sailboat race.
Kyle Burleson, 2016 Bell's Beer Bayview Mackinac Race Chairman made the announcement on Tuesday at a gathering of media professionals and members of the sailing community.
Four boats from Michigan competing in the race are chosen in a blind drawing during the media kick-off for the race. The boats and crews then represent one of Detroit's four major sports teams against each other in the race to Mackinac.
The Detroit Sports Broadcasters Association, working with Bayview Yacht Club and Detroit's four professional sports teams, started the race in 2010. Since then, the competition has become a favorite among sailing crews. The chosen boat owners and crews each plan a visit to their respective team and are outfitted in team gear and given flags to fly during the race.
"When we started the Pro-Team Challenge, we thought it would be some fun for boat owners and their crews," Burleson commented. "But as it has grown there is a great deal of pride for the boat owners and crews to carry the pro teams' honor. This is why the Mackinac Race Authority decided it was time to officially recognize the Pro-Team Challenge and its winner. This is something all our Michigan-based boats want to be participating in."
The new rules state that teams will be scored by their overall finish in each team's respective decision. The team with the best overall finish in its respective division will be declared winner of the Pro-Team Challenge.
Additionally, this is the first year that the Pro-Team Challenge will include Set Sail for Autism participants as honorary team members, giving them the opportunity to participate in all activities associated with the program, including the team visit. Set Sail for Autism is a program dedicated to helping young adults with autism reach their full potential, and is a community partner of the Bell's Beer Bayview Mackinac Race.
reported by Bob Benko