WMIC 660 and 977 WTGV are getting in the Halloween spirit with their scariest contest yet! We're giving listeners a chance to snag a pair of movie tickets from the Firebird Theatre in Sandusky, along with a gift certificate to an area business! To win, listeners must call in when we play a clip from an iconic horror movie. The first caller to correctly identify the movie wins!
And here's the best part: all winners become eligible to win one of TWO separate grand prizes!
On October 31st we'll randomly select two names from our list of winners to win one of the following grand prizes:
1. Two tickets to the McKenzie Health System Autumn Benefit event on Saturday, November 4th at Woodland Hills Golf Club in Sandusky. This includes dinner, entertainment, and drawings to            win prizes of $1,000, $750 and $500! These tickets are valued at $100 each!
2. Take this guy home: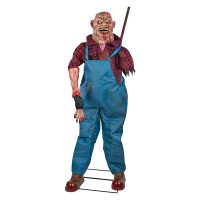 No, seriously. Farmer Fred needs a new home! This 6-foot tall, fully animated electronic prop features light up eyes, creepy audio and a variety of movements. He'll look right at home on your front lawn! Courtesy of our friends at A Lil' of Everything Halloween Supply in Imlay City, Farmer Fred is a prize worth $180!
Beginning on October 18th and running each weekday through Halloween, listen during the WMIC/WTGV morning show and noon newscasts for the cue to call. 810-648-6600
One win per person for duration of contest. Prizes can be picked up at the Sanilac Broadcasting offices during normal business hours.